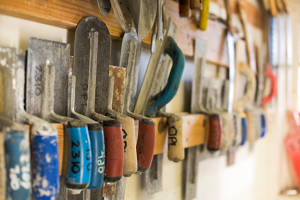 The Oakland Tool Lending Library – a branch of the Oakland Public Library system – has more than 3,500 tools that residents of Oakland, Emeryville and Piedmont can borrow for free with their library card. The TLL is staffed by library employees, and funded by the City of Oakland and property taxes from Measure Q.  Meet some of our TLL staff members.
Check out the tool inventory and a brief history of our TLL.
Sign Up to use the TLL – and start borrowing tools.
Support the TLL by joining the Friends of the Oakland TLL, a volunteer group that works with the TLL staff, library administration and Oakland residents to help make this magnificent public resource even better.  Join us by signing up for updates – it's free, and we promise no more than one email per month!