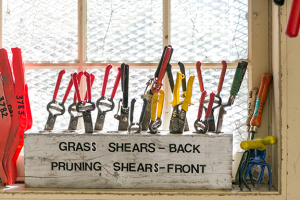 The Friends of the Oakland Tool Lending Library, a fiscally sponsored project of the Friends of the Oakland Public Library, is a group of volunteers dedicated to supporting Oakland's Tool Lending Library, and improving it as a resource for all Oakland residents.
Since forming in 2010, we have rallied the TLL supporters to advocate against cuts to the library budget and worked with the library administration and TLL staff on several improvements to the TLL.
Some recent improvements we've had a hand in:
The TLL is open on Thursdays, 10:00 – 5:30!
If the tool you want is checked-out, you can now place a hold on it, and TLL staff will call you when your tool is ready for pick-up.
Check-out period has been extended from four to seven days for most tools. (Some high-demand tools are available for two-day checkout only).
Want to help us improve the Tool Lending Library?
Join our working group (short meetings, efficient collaboration and food) to help realize this vision for tool lending in Oakland.
Donate money to support the TLL – it's tax-deductible